We are authorised dealer from Access UBS.
Access UBS Payroll 9.9 (Compliance with EIS) & Human Resource Management
Access UBS Payroll & HRM is designed to make the payroll process simple yet accurate and efficient. It is designed to meet both management and statutory requirements. Access UBS Payroll caters to government requirements such as:
· KWSP Borang A

· SOCSO Borang 8A / 2 / 3

· Income Tax

· EA Form

· CP8

· CP22

· CP22A

· CP39

· PCB2(11)

· TP1/TP2
With its monthly, weekly, daily and hourly piece rated computation, it is an effective payroll system for all types of businesses and industries. To make it more convenient, Access UBS Payroll is able to submit net salary data via diskette to credit employee salaries through the bank.

Access UBS Human Resource Management is designed to help small and medium-sized companies to manage their personnel effectively and efficiently. It is a flexible solution to facilitate the management of standard human resource related procedures via electronic application modules, such as leave and reimbursements / claims application / control, resource requisition, and performance appraisal processes. Access UBS Human Resource Management can be integrated with Access UBS Payroll and Access UBS Time Attendance System.
NEW FEATURES
Spending too much time on payroll processing? Access UBS Payroll is the key to saving time and it is so easy to use! Access UBS have incorporate enhanced features to ease data entry and provide you a peace of mind through better traceability and accountability
· Quick Entry
Enables management of "Allowance", "Deduction", "Overtime" and "Others" in a single screen.
- Able to view total summary for easy payroll entry before payroll processing.
- Saves time.
- Eliminate errors.
· 12 Months Figure Update
Ability to view and check changes made by users.
- Accountability.
- Traceability where unusual or unauthorized changes can be detected.
- Error and problem detection.
· New bank formats provided for your convenience.
New bank formats supported include:
- AmBank for Salary
- Public Bank for EPF
- Maybank for Tax, EPF, SOCSO (HR Pay V6.4)
- OCBC Bank for Salary (Singapore)
- DBS Bank for Salary (Singapore)
FEATURES
1. Wizard Setup
a. Available during initial setup.
Serves as a quick start to new users in getting started with the system.

Provides a step-by-step guide for the user to setup necessary masters in the system.

Reduces the steps required to go through different menu paths in order to get all the setup required in place.

The step by step wizard includes the following business process: -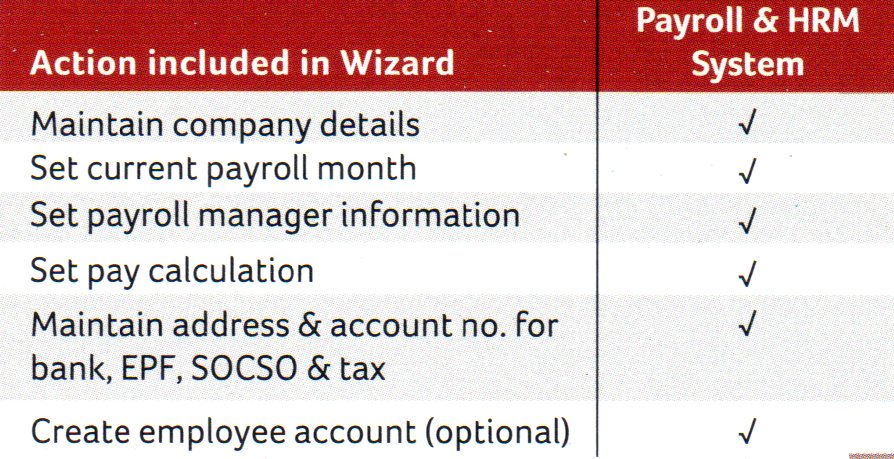 2. Employee Wizard
a. Simple entry process for a new user to minimize set up error.
b. Provides a step-by-step guide to enter relevant information required for a new employee such
as:
- Personal Details
- Employment Details
- Immigration Details (if employee is not local)
- Allowance and Deductions
3. User Interface
a. Quick access to process flow.
b. Task flows are displayed on the newly introduced dashboard.
c. You can choose to execute tasks by clicking on the process flow button to access the entry screen directly.
d. Quick access helps to speed up access.
e. Useful for new users who are not familiar with the system.
f. Quick access process flows are grouped by the following sections:-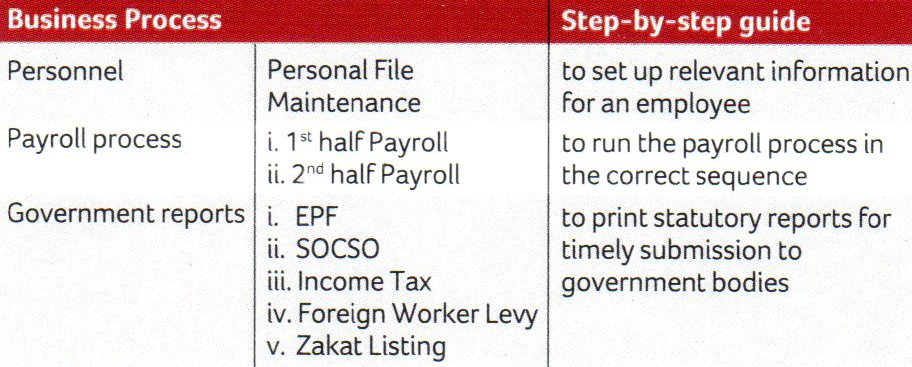 4. Enhanced APS format for Access UBS Payroll
a. In the latest release, the APS format has been enhanced to support the following banks: -

b. Other banks:
- Alliance Bank
- Bank Simpanan Nasional
- Affin Bank
- Public Bank
- Keppel Bank
- RHB
- EON
- Bank Mualamat
- OCBC
- Bank Rakyat
- Bank Islam
- Hong Leong Bank
- Standard & Chartered
- UOB
- HSBC